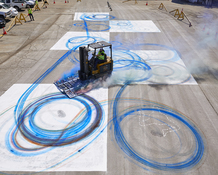 Blue Skies Forklift Smoke Painting
August 19, 2021
A 100 x 36 foot temporary painting was created on the asphalt at the Kohler Company factory in Kohler Wisconsin using the "Blue Skies" Forklift Smoke Painting tool. The tool was created at the factory during an Arts/Industry residency and consists of 12 parts cast in collaboration with the factory finished in brass with patina and chrome metal plating. The tool held upwards of 120 color smoke canisters and was operated while driving a forklift. The performance was funded by the John Michael Kohler Art Center with
technical support provided b
y Kohler factory and foundry technician.
video
courtesy of Rosemarie Fiore Studio
all images: Kohler Company
---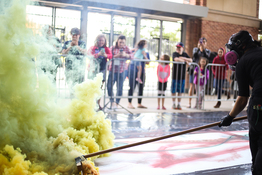 Texas A and M, Engineering School, Zachary Collection, "Smoke Painting #44"
2018 Smoke Painting Collaboration project for the
Texas A and M University Engineering Collection in the Zachry Engineeing Education Complex
. I collaborated with TAMU College of Engineering students to create the Smoke Painting Tool "Bring Your A Frame". The tool was used to create a 73 foot Smoke Painting on a paper scroll during a performance at Kyle Field. The scroll was then cut down to create "Smoke Painting #44" and was framed and installed in the Zachry building.
video
courtesy of TAMU engineering
all images: TAMU Engineering